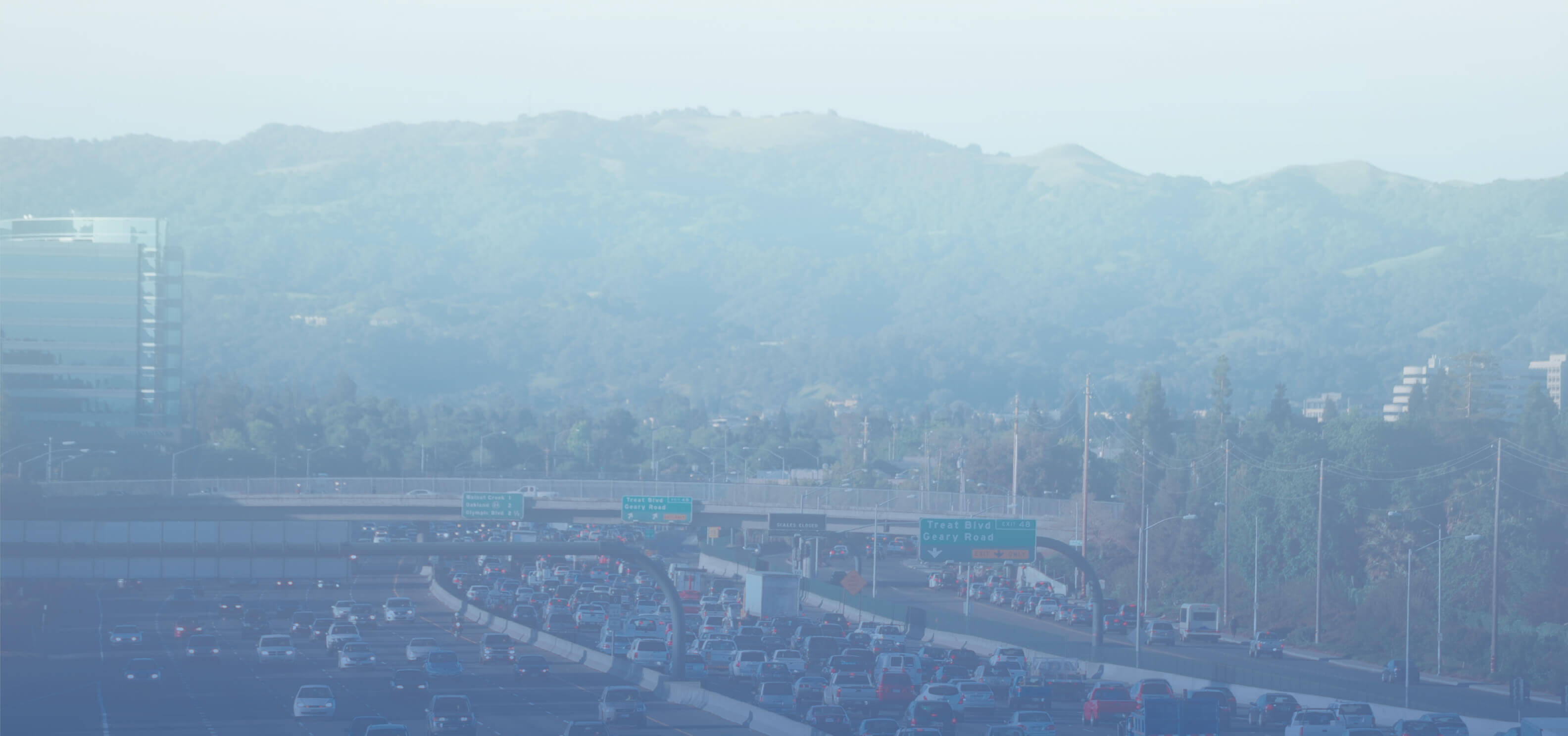 I-680 Express Lane Completion Project
MENU
Welcome
I-680 Express Lane Completion Project
California Department of Transportation
Contra Costa County, I-680, PM R11.0 to PM 24.5
Thank you for your participation in our online Public Scoping Meeting for the proposed Interstate 680 (I-680) Express Lane Completion project. The entire session should take no more than 15 minutes to complete. We look forward to reviewing your input and continuing to work with you throughout the project. The comment period for this meeting has closed.
Translate this meeting content:
Three Ways to Navigate This Meeting

Click the arrows on the sides of your screen.

Use the navigation bar to the left of your screen.

Use dots at top below the project title.
How to Participate
Click through slides to learn about the project.

Note that the project's scoping period is when the project's purpose and need, and potential alternatives are identified.

Provide specific concerns related to the project's environmental scope.

Comments can be recorded at any point by clicking the "Comment" button at upper right corner of the screen.

To continue through slides, close comment form and reopen when needed.

Don't forget to hit "Submit" after completing your review and comments.
Project Introduction
California Department of Transportation (Caltrans) in partnership with Contra Costa Transportation Authority (CCTA) and the Metropolitan Transportation Commission (MTC), have begun preliminary design and environmental analysis on the I-680 Express Lane Completion Project (project). The project is part of CCTA's INNOVATE 680 program, which seeks to implement a suite of six projects that, when operating together, will address corridor-wide congestion, travel delays and operational challenges.
The project proposes to construct a northbound express lane from Livorna Road to State Route 242 (SR-242). It would also convert the existing northbound high-occupancy vehicle (HOV) lane that runs from SR-242 to the Benicia-Martinez Bridge Toll Plaza, to an express lane. The goal of the project is to complete the I-680 express lane network through Contra Costa County to increase travel speeds for those choosing to use the express lane.
Listen to Audio
---
Click the map to enlarge.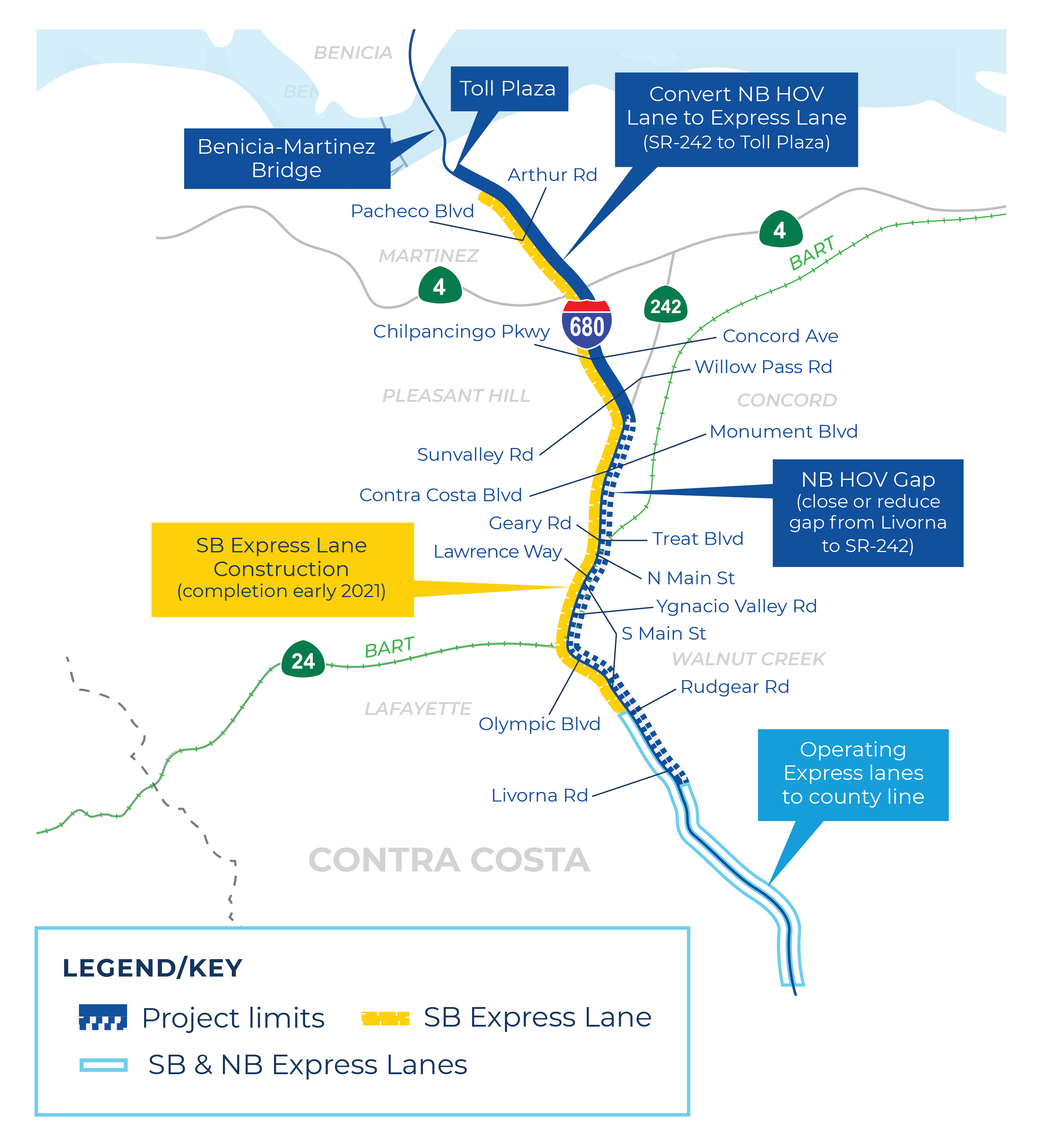 Project Purpose and Need
As a major north-south freeway, I-680 is a heavily traveled corridor that connects the Southern San Francisco Bay Area with Interstate 80 (I-80) and passes through Santa Clara, Alameda, Contra Costa and Solano counties. Within Contra Costa County, travelers experience congestion, bottlenecks and increased travel times due to a lack of continuous express lanes.
The purpose of the I-680 Express Lane Completion Project is to: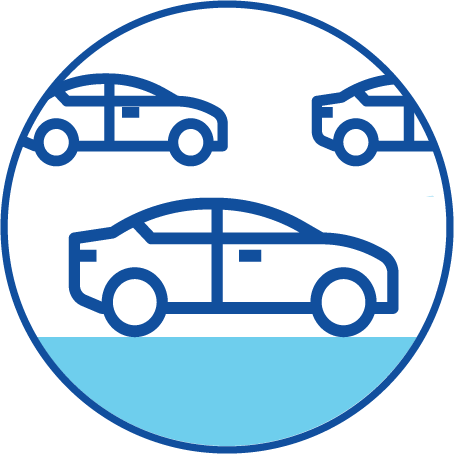 Reduce peak-period congestion and delay
Improve travel time reliability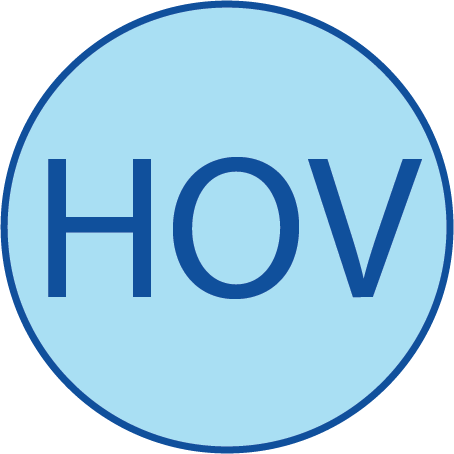 Optimize use of existing HOV lane capacity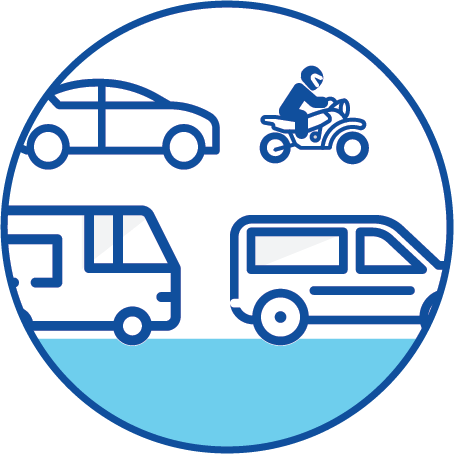 Provide efficient travel options for all vehicles
Listen to Audio
Based on existing roadway conditions and the 2018 Traffic Engineering Performance Assessment, the project is needed to address the following priorities:

Congestion Relief – Smooth traffic throughout the corridor, where delays can reach 30 minutes when traveling from one end of the county to the other (based on 2019 data)

System Continuity – Address the lack of continuous express lanes within the county, which leads to increased travel time for users

Operational Improvements – Reduce bottlenecks along the corridor by addressing weaving issues like those at the Lawrence Way on-ramp and Treat Boulevard off-ramp, which regularly cause traffic to back up through the SR-24 interchange
Why Express Lanes
Bay Area highway traffic congestion ranks among the worst in the U.S. and is forecasted to increase with future demands. Peak period congestion reduces speed and travel time reliability. Express lanes are specially-designated highway lanes that allow non-carpool eligible drivers a choice to pay a toll to use the lane for a more reliable trip travel time.
A seamless express lane network will maximize vehicle capacity within HOV and general purpose lanes for those traveling through Contra Costa County.
Express lanes have proven to be a useful tool to better manage freeway congestion where they are implemented.
Free or reduced tolls to carpools, vanpools, transit and other eligible vehicles

Allows non-carpool eligible drivers to pay a toll to access lanes

Have dynamic tolling – tolls increase as express lane traffic increases and decrease with traffic decrease
---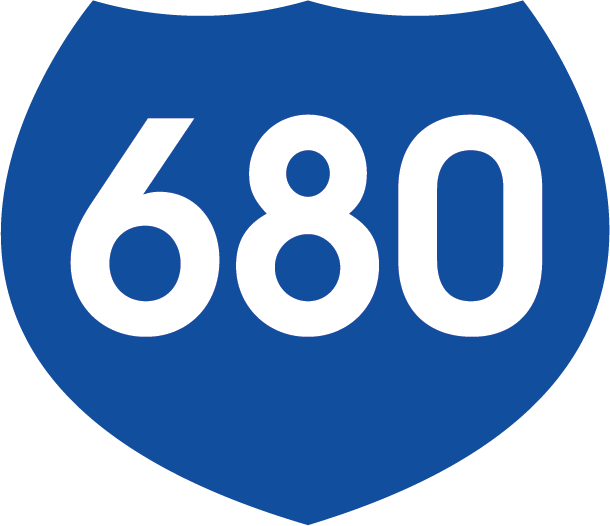 I-680 is ranked 5th out of the
10 MOST CONGESTED
corridors in the Bay Area
Source: (2013 & 2014). Vital Signs Report. Metropolitan Transportation Commission
---
Listen to Audio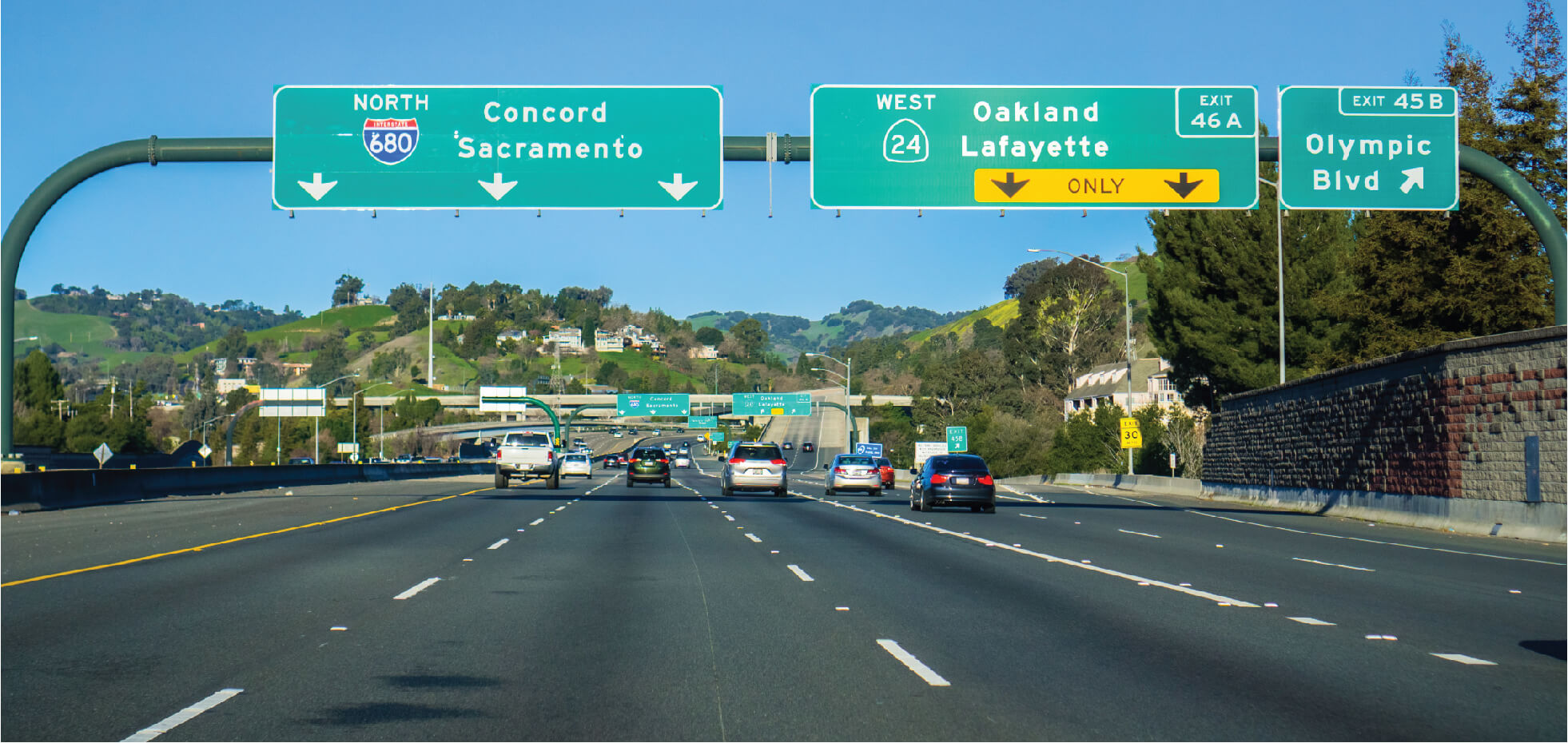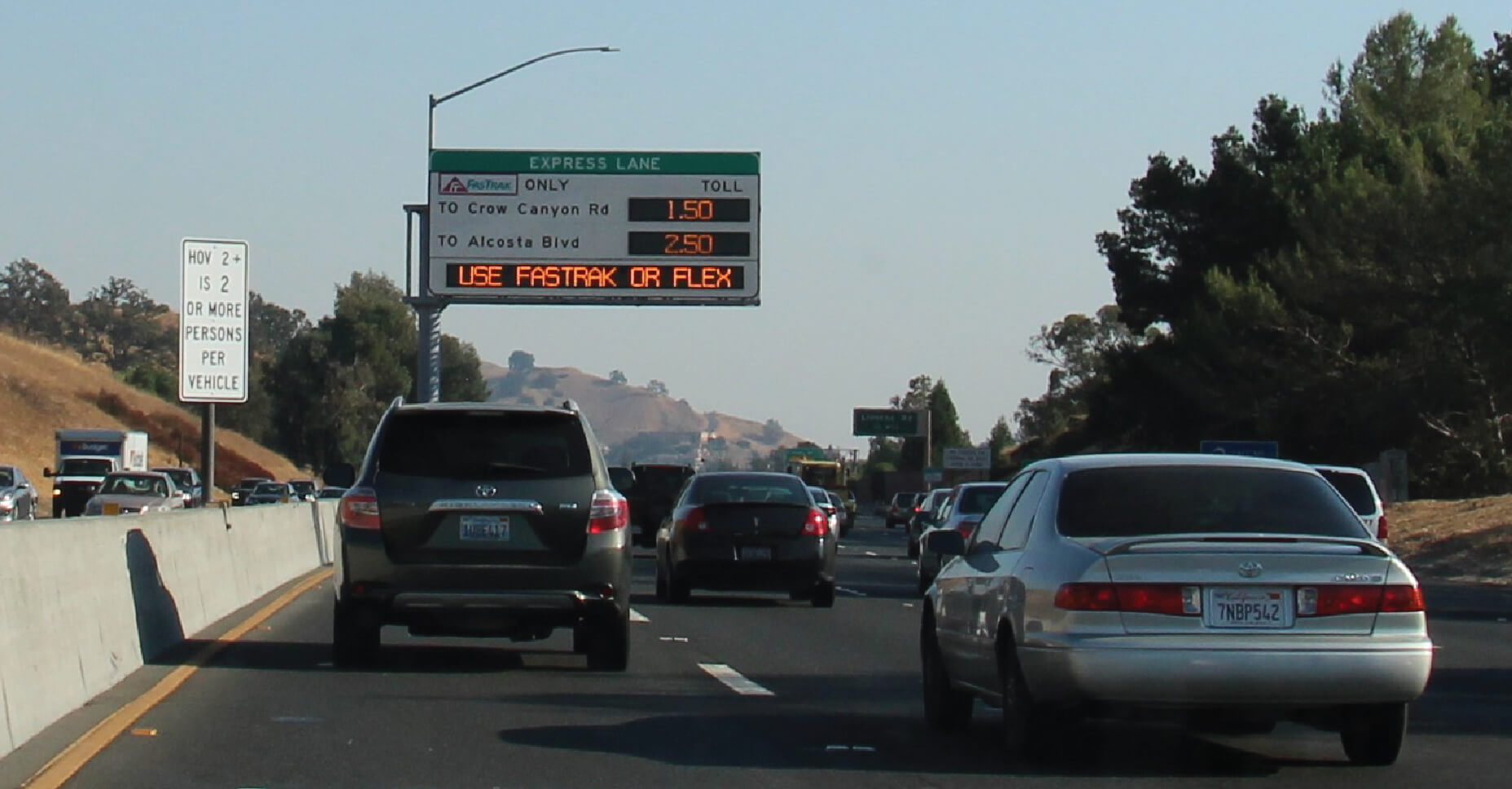 Preliminary Engineering
Alternatives that move forward into environmental analysis must fit within the physical constraints of the corridor, minimize impacts, and be financially feasible while still meeting the project's purpose.
The most notable physical challenges to add an express lane within the corridor are within the I-680/SR-24 interchange area. The design team is in the process of formulating alternatives within this area that can be feasibly constructed given the following physical constraints:

BART Overcrossing Columns
Constrained Right-of-Way

SR-24 Northbound On-Ramp


Listen to Audio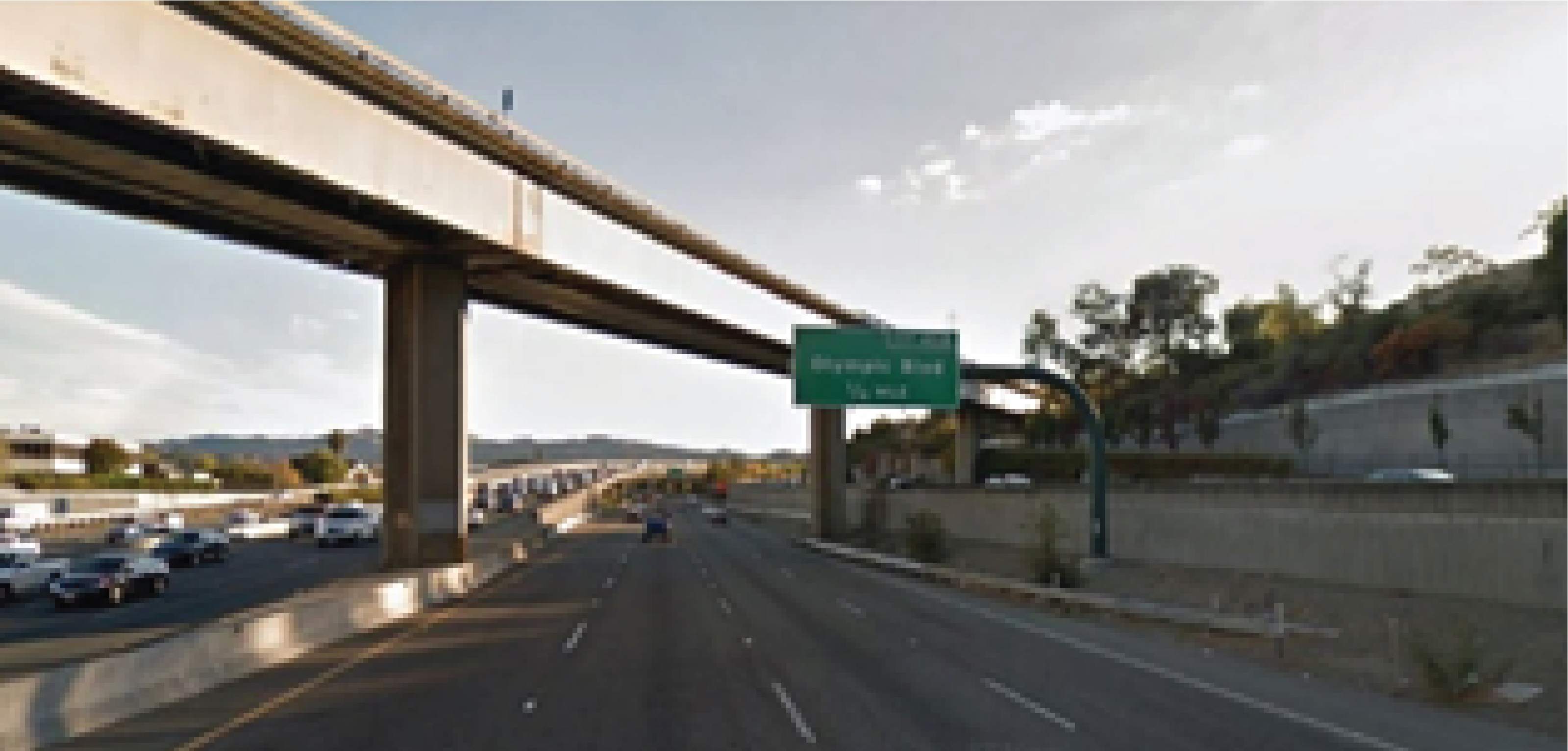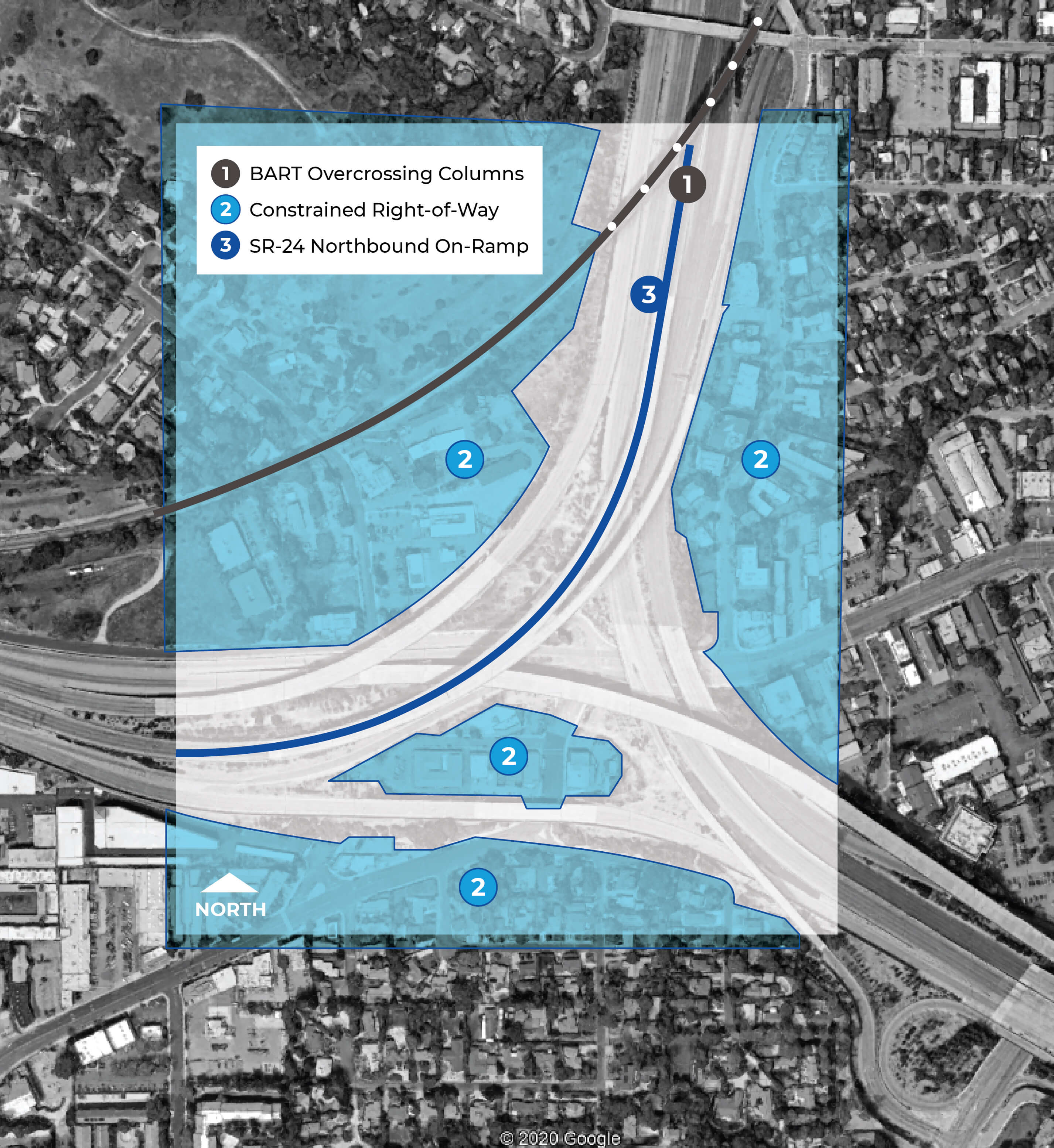 ---
Click the map to enlarge.
Environmental Requirements
Identified feasible alternatives will be analyzed in the:
California Environmental Quality Act (CEQA) Environmental Impact Report (EIR)
&
National Environmental Policy Act (NEPA) Environmental Assessment (EA)

The EIR/EA will assess the potential environmental impacts of the proposed Project on the physical, human and natural environment. Measures to avoid, minimize, and mitigate any potential adverse impacts will be identified in the EIR/EA.
Listen to Audio
A wide variety of resource areas will be studied to identify potential impacts including:
| | | | |
| --- | --- | --- | --- |
| | Air quality | | Hazardous waste/ hazardous materials |
| | Biological resources | | Hydrology/ water quality/ storm water |
| | Climate change/ greenhouse gas | | Land use |
| | Community impacts | | Noise |
| | Cultural resources (historic buildings, structures, and districts; archaeology) | | Paleontology |
| | Economic impacts | | Right-of-way/ relocation |
| | Environmental justice | | Transportation/ traffic studies |
| | Geology/ soils/ seismicity | | Utilities |
| | Growth | | Visual impacts |
Environmental Process
A Draft EIR/EA will be prepared that identifies build and no-build alternatives, analyzes the environmental impacts of proposed alternatives and proposes mitigation measures to minimize potential impacts. The Draft EIR/EA will be made available for public comment. Comments will be addressed in the Final EIR/EA, which will be approved by Caltrans, the lead agency for the California Environmental Quality Act (CEQA) and National Environmental Policy Act (NEPA).
The environmental review, consultation, and other actions required by applicable Federal environmental laws for this project are being, or have been, carried out by Caltrans pursuant to 23 U.S.C. 327 and a Memorandum of Understanding dated December 23, 2016, and executed by the Federal Highway Administration and Caltrans.
Listen to Audio
---
Click the schedule graphic shown here to enlarge.
Key Environmental Issues
While the proposed project will analyze the full suite of environmental issues, a couple of areas stand out:
Listen to Audio
Vehicle Miles Traveled (VMT)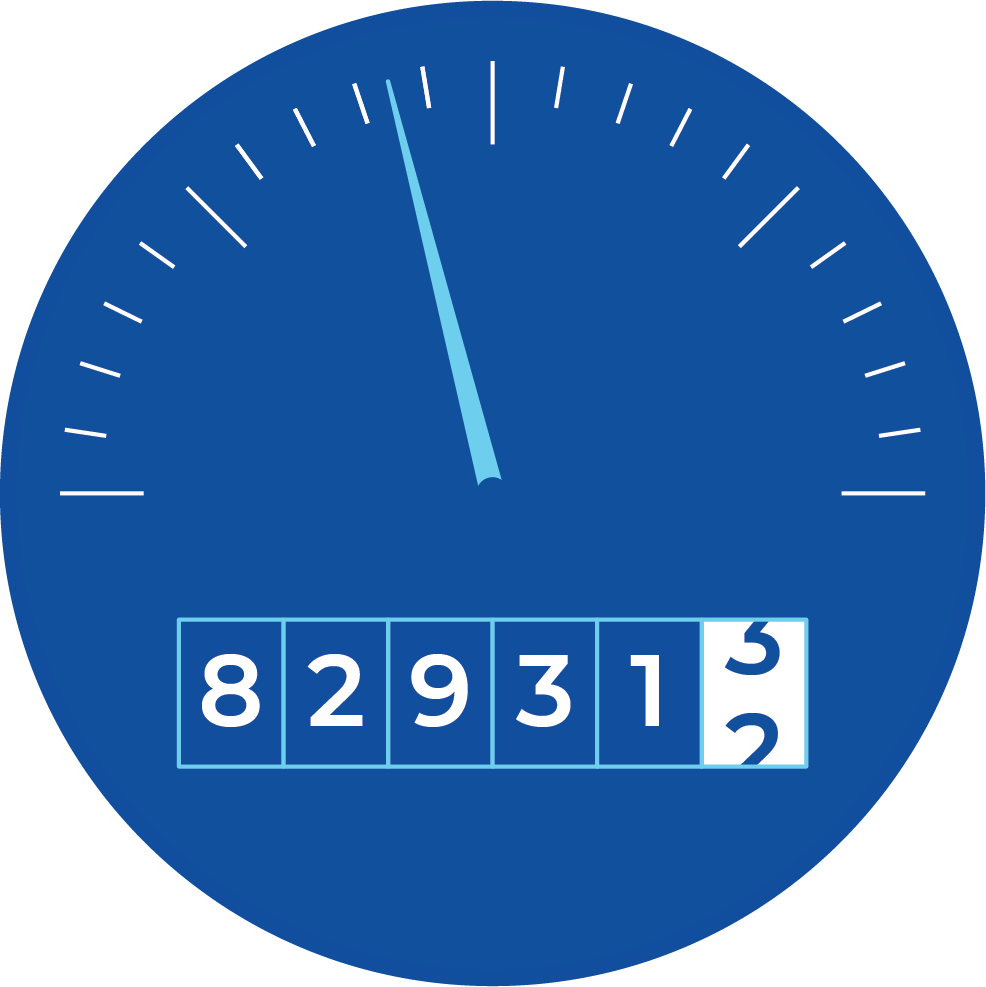 Study of vehicle miles traveled (VMT) as a transportation impact is a new requirement under CEQA. Because new roadway capacity is proposed for the project, VMT will likely increase. We will be looking closely at appropriate mitigation measures. VMT is 'one vehicle traveling on a roadway for one mile.' Implementation of Senate Bill (SB)-743 will require evaluation of transportation impacts in VMT to determine CEQA significance.
Noise Concerns and Mitigation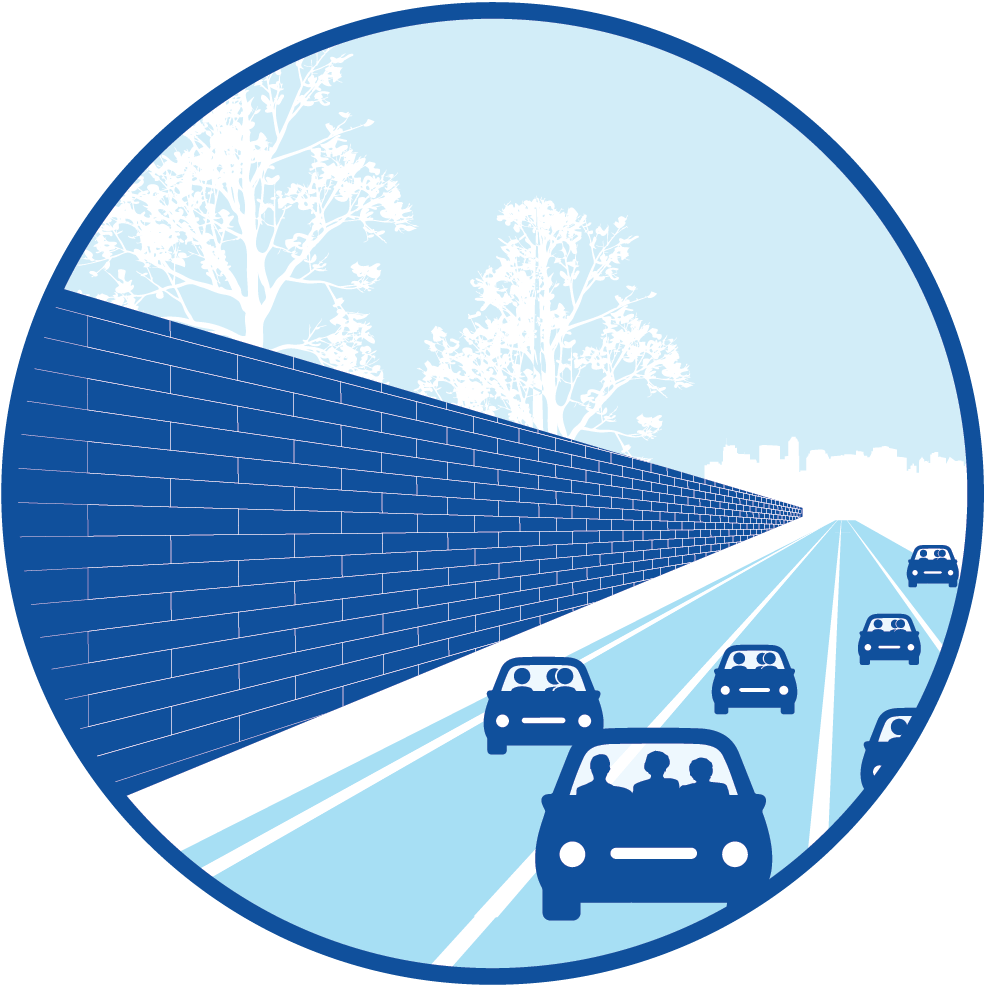 Noise is frequently a concern for project neighbors. As part of this proposed project, a sound wall will be constructed along northbound I-680 adjacent to Jones Road between Lawrence Way and Treat Blvd. Construction of that wall is a commitment from the I-680 Southbound HOV Completion project. If additional areas qualify for sound walls based on the noise analysis, those walls will be proposed as part of the project.
Stay Connected
Project Resources and Next Steps
Thank you for your interest in the I-680 Express Lane Completion Project. Input received during the scoping period will be shared with the project team to aid in project development. The comment period for this meeting has closed.
Listen to Audio
Share Your Thoughts
The submission period for comments concerning the proposed environmental scope of the project was open until July 29, 2020 and is now closed. If you would like to contact the project team you can use the following options:
E-Mail sent to:
Letter sent to:
Caltrans District 4 Office
Office of Environmental Analysis
111 Grand Ave, Mail Station 8B, Oakland, CA 94612
Attention: Wahida Rashid, Caltrans Senior EP, CC & ALA
Online comment card:
Click "Contact" button in upper-right corner
Project Website
For more information and to stay connected, visit the Innovate 680 Program website at ccta.net/innovate680 to sign up to receive updates.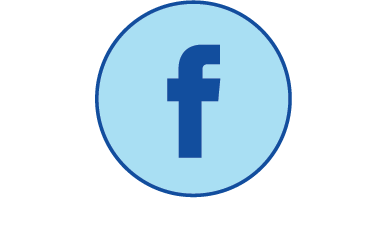 Project Milestones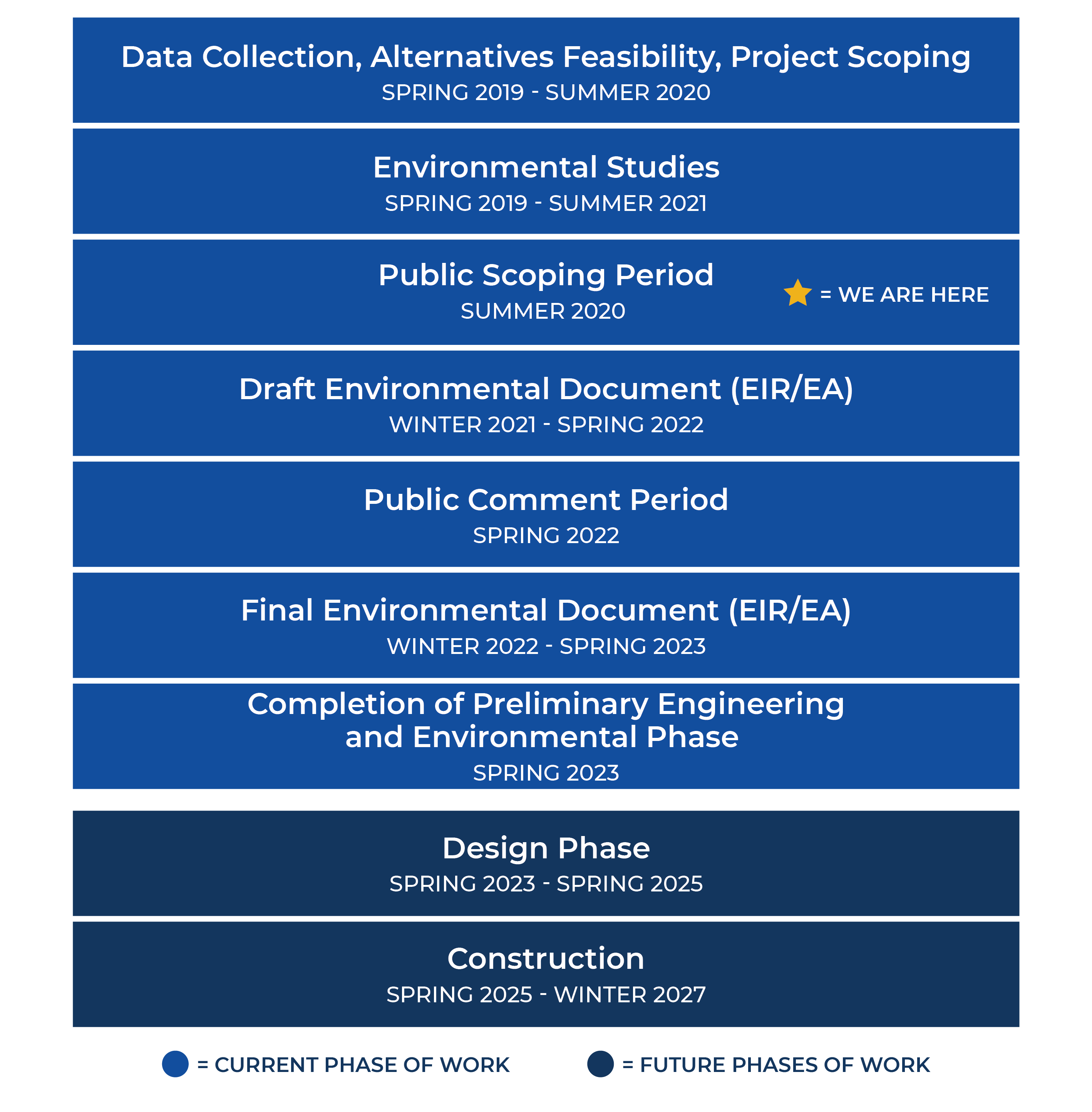 menu button